Reminders
AMA membership renewal
If you haven't renewed your Alberta Medical Association membership yet, visit the AMA website and log in to renew. You can also sign up for pre-authorized payments (PAP) or update your PAP profile and banking information.
Zone Advisory Forum (ZAF): CAMSS & EZMSA
Applications are due February 28
The Calgary & Area Medical Staff Society (CAMSS) and Edmonton Zone Medical Staff Association (EZMSA) are seeking to fill vacancies on their Zone Advisory Forums (ZAFs). Learn more and apply.
AMA/WCB Advisory Committee
Applications are due March 3
The AMA/WCB Advisory Committee is looking for a family physician to join the committee. Learn more and apply.
Canadian Medical Association
Applications are due March 21
The Canadian Medical Association has vacancies opening in August 2022 for the CMA Board, Committee on Ethics and Nominations Committee. Learn more and apply.
AMA Achievement Awards nominations due April 30
The AMA is seeking nominations for its highest awards: the Medal for Distinguished Service (awarded to a physician[s]) and the Medal of Honour (awarded to a non-physician[s]). The awards will be presented at the AMA's fall 2022 annual general meeting. Learn more and nominate.
Scholarship to help physicians meet Alberta's changing medical needs
The deadline for applications is March 31, 2022.
Could you use an extra $7,500 for additional training in a clinical area of recognized need in Alberta? Every May we award four physicians with a $7,500 scholarship!

To qualify you must be:
A practicing physician seeking additional training in a clinical area of recognized need in Alberta.

An AMA member.

Enrolled and accepted in a clinical program of at least three months' duration in a recognized educational facility.
Visit the AMA website to learn more about the scholarship and its eligibility criteria, view biographies of past recipients and submit your application.
New program:
Rural Education Supplement and Integrated Doctor Experience (RESIDE)
The Government of Alberta's new RESIDE program, which was announced on January 31, 2022, aims to encourage new-in-practice physicians to live and work in underserved rural Alberta communities.
Important changes to MyAHS Connect parental proxy access
Alberta Health Services is changing how youth accounts in their online patient portal, MyAHS Connect, can be accessed by a parent or guardian via proxy access. Proxy access (i.e., parents/guardians being able to view a youth's health records) via MyAHS Connect will now automatically end when a youth turns 12 years of age.

This decision is expected to be met with sensitivity by some parents and guardians, especially within child health programs and family medicine clinics where MyAHS Connect proxy access has been offered since the Connect Care Wave 1 launch.

Community providers should be aware that information related to the care you provide to patients, including test results and prescriptions, may or may not be viewable by parents/youth in this situation.

Continue reading for the full communication including links to FAQs for physicians and patients.
Five steps to minimize privacy breaches
Privacy breaches within a clinic are stressful, time consuming and potentially reputation ruining. Check out these five steps you can take right now to minimize breaches within your practice and protect your clinic and patient's information.
Get your consults on Netcare to
improve patient care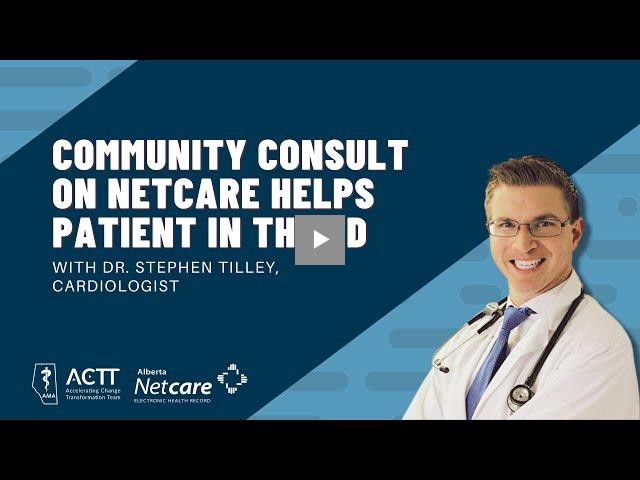 While waiting months for a scheduled valve replacement surgery, a patient from rural Alberta found themselves in an emergency department with pulmonary edema. Listen to Dr. Stephen Tilley, Cardiologist, explain how using Community Information Integration (CII) to upload his community consult reports to Netcare helped the ED doctor expedite the care for this patient.
Member vacancy:
AMHSP Advisory Council
The deadline to apply is March 15.

The AMA is recruiting one physician representative from amongst those groups considering entering the Academic Medicine Health Services Plan (AMHSP) in a new arrangement, which includes academic physicians in medical genetics and psychiatry.

The AMHSP Advisory Council brings together AMA physician leaders involved in the AMHSP to develop a common understanding of the needs and concerns of academic physicians.

If you are interested, please visit the AMA committee recruitment web application (login required) to view the posting and apply.
News from the
Alberta College of Family Physicians
Summit 2022 - It's not too late to register!

Confused about Paxlovid? Concerned about systemic racism? There's still time to register for the ACFP's virtual Family Medicine Summit to gain access to pre-conference activities and join ACFP for the live event from March 4-6.
Recognizing excellence – The ACFP celebrates its 2021 awards recipients

The ACFP would like to congratulate the East Calgary Family Care Clinic on being the 2021 Patient's Medical Home – Outstanding Family Practice recipient. Thank you for going above and beyond to provide your patients with a safe, supportive space to access medical care.

Read more about this wonderful clinic and how you can nominate a peer or clinic for outstanding contributions.
Learn to Tame Pelvic Pain TONIGHT

The Collaborative Mentorship Network for Chronic Pain and Addiction (CMN) is hosting a free February session tonight; "Pelvic Pain 101: It's Not All Endo" with Dr. Magali Robert. There's still time to register!

All monthly virtual forums are now open to non-CMN members.
How to withdraw funds tax-efficiently
in retirement
Sponsored advertisement

Finding the best order for withdrawing funds in retirement starts with considering your goals and circumstances. Learn some strategies from MD Financial Management to get the most out of your withdrawals.
Survey Corner
Health care partners and other organizations often seek physician feedback through surveys. This month, the following is available for your consideration:

AHS Survey: Physicians' perception of pharmacists prescribing opioids and controlled substances
Do you have thoughts around pharmacists prescribing opioids and controlled substances? Practicing Alberta physicians (on the general/provisional register) are invited to take a 10-minute anonymous survey exploring your perceptions. The aim is to involve physicians as important stakeholders to enable and inform collaborative practice. Study approved by the Research Ethics Board at the University of Alberta: Pro00115230. Questions? Please contact heather.tieu@albertahealthservices.ca.

Rural Trauma and Emergency Training Needs
The Rural Health Professions Action Plan is interested in physician feedback regarding emergency/trauma training needs for rural practice. Responses from this survey will help RhPAP identify what types of education rural physicians, nurses and paramedics are requiring (CPR, ACLS) or would be interested in (STARS training, e-SIM sessions).
Editor's note: "Survey Corner" presents survey requests received and reviewed by the AMA, that may be of interest to our members. We will publish new opportunities as we receive them.